LITTLE ZERO
Copyright © 1991 AdRem, Inc. All rights reserved

---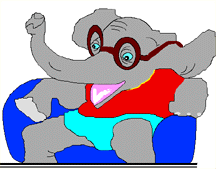 SMART ELEPHANT PETER
was born in 1981 in Gainesville, FL. in a Scientific Zoo. He worked as a Chief Scientist Animal in a Science Club at the Elementary School. He was very successful in Mathematical Art, Computer Painting, and Saxophone Trunk Playing.
Then he moved to Pennsylvania and started teaching Riddles, Illusions and Paradoxes for Kids.
In 1991-96 Smart Elephant Peter organized a series of meetings with children of elementary schools Illusions of Everyday Life. He discussed with the kids a book Wondering of Little Zero.
Together they made many interesting discoveries and traveled all over the World.
Smart Elephant Peter is married. He and his wife have two children. They are still young but can play their trunk saxophones.
If YOU WISH to SEND a LETTER
to SMART ELEPHANT PETER, Please Press this button-->

---